1868 - B'nai B'rith's Jewish Orphanage
Bellefaire began as an orphanage for Jewish children.
During the Civil War years, the B'nai B'rith Midwest District accepted a proposal by Clevelander Benjamin Franklin Peixotto that members be taxed a dollar a year to raise a charitable fund. Women from nine cities were also asked to raise money for the fund. In 1867 the District decided to establish a home for Jewish orphans of the Civil War and considerable lobbying led to its establishment in Cleveland.
In 1868 its leaders purchased a building on Woodland Avenue and Sawtell (now East 51st Street). Adjacent land was also bought and a schoolhouse built. [Source: Gary Polster, see below] The building had been built in 1848 by Dr Thomas Seelye as the Cleveland Water Cure Establishment. More on ECH
That the orphanage was considered to be a significant benefit of being a member of B'nai B'rith can be seen in this 1876 certificate of membership in B'nai B'rith displayed in a Library of Congress exhibit "From Haven to Home". The building shown at the bottom of the certificate is the orphanage they established in Cleveland in 1868.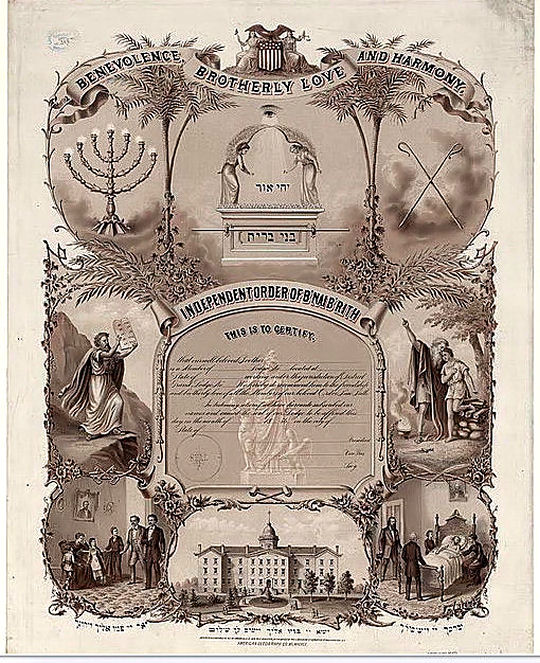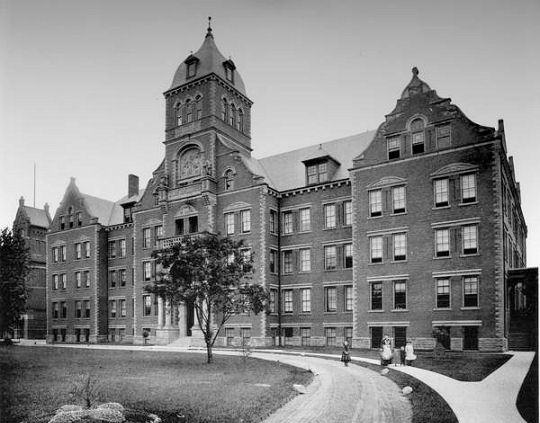 Jewish Orphan Asylum. in an undated (ca 1900) picture from the Cleveland Press Collection. Online on the Cleveland Memory Project.
By 1900 the orphanage, under the direction of Dr. Samuel Wolfenstein, had grown to serve 400 children.
For more on the Jewish Orphan Asylum, view our page created by Gary Polster PhD, author of "Inside Looking Out: The Cleveland Jewish Orphan Asylum 1868-1924."