The president of the Temple who Moses Gries had told of his intention to retire was Benjamin Lowenstein. A 58 year old manufacturer of women's' clothing, Lowenstein was born in Wilkes Barre Pennsylvania, moved to Cleveland in 1896 and had been elected Temple president in May 1915.
Although there would be a Board of Trustees and a Selection Committee to assist, replacing Moses Gries ultimately would be Lowenstein's responsibility. (Lowenstein would serve through 1927 and his tenure included the Temple's move from East 55th Street to University Circle.)
Lowenstein described the campaign for a new rabbi in an extended story in the May 4, 1917 Jewish Independent, the source for the quotations below. (A copy of the story is on our next page.)
The search began in October 1916, soon after the Gries announcement. The committee and trustees met night after night in their homes, some sessions ending long after midnight.
The committee began by preparing a list of all the Reform rabbis in the United States. The Hebrew Union College had been graduating rabbis since 1883 - about six rabbis per year. In 1916 their full list would have had about 170 names. See a list of early graduates of Hebrew Union College.
"After studying each man separately the process of elimination was started until the list dwindled down to twenty, then to ten, then to five or six. All these possibilities were then carefully studied in their own pulpits, on the streets, in their homes and from every other possible standpoint. Then the question finally resolved itself to this: Does the Temple want a man of mature years, who has already made a reputation, a man who is brilliant and pleasing, who would be taken away from an assured position, or does the Temple want a young man of brilliant possibilities, who has only been in the pulpit two years or so." (emphasis ours)
Lowenstein says that the Board unanimously preferred to select a young man. Perhaps they remembered how well a preference for youth had worked before when their beloved Rabbi Gries, then 24 years old, was called to the Temple.
See endnote about Dr. Kaufmann Kohler.
By mid-February 1917, only ten weeks before the Temple's annual meeting when the name of the new rabbi should be announced, the list of candidates would have been reduced to only a few names.

February 24, 1917 — Coming to Cleveland for the B'nai B'rith speech
Abba Hillel Silver was active in the Wheeling lodge of B'nai B'rith (Sons of the Covenant) and would give talks at lodges in other cities. (Tribute from I.O.B.B.) Many of Cleveland's leading Jewish men, including Rabbis Gries and Wolsey and Alfred Benesch, were active B'nai B'rith members. (The Jewish Independent had said they would be delegates to the Ohio B'nai B'rith convention that summer.)
The Friday February 23, 1917 edition of Cleveland's weekly Jewish Independent displayed a picture of Abba Hillel Silver for the first time, announcing his talk at the B'nai Brith Forum that Sunday evening.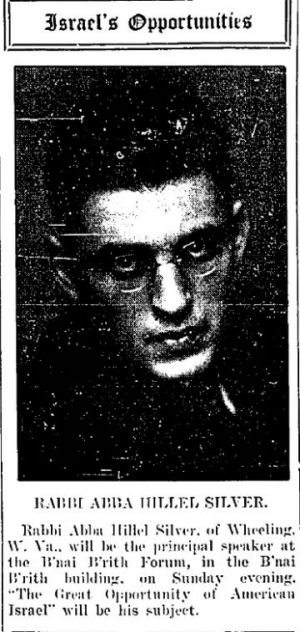 The B'nai Brith Building was on Euclid Avenue at East 71st Street. (Note: an earlier version of this page incorrectly placed the event at a now lost building at 1624 East 55th Street. (2/2019)
Such a subject (Israel would refer to the Jewish people, not to a state of Israel) would let Abba Hillel Silver share his vision of progress and social justice and inspire his audience with prophetic zeal. There are no reports of this speech in the Cleveland newspapers, but it had an immediate result. The trustees of the Temple who heard it (Lowenstein told Silver that all of them had been there) knew they had found their next rabbi.
See endnote about who invited Silver to speak in Cleveland?
March 1917 — Lowenstein 'closes the deal' in Wheeling
As Lowenstein said in the announcement in the Jewish Independent, "The committee then narrowed the selection down to one young man." That man was Abba Hillel Silver.
Lowenstein now needed to make a trip to Wheeling to 'close the deal'. To do this in ample time for the annual meeting near the end of April, the trip would have been made in March or early April. After taking a train from Cleveland to Wheeling he visited Moses Sonneborn, the president of Leshem Shomayim. Lowenstein relates how he told about his mission to find a new rabbi for the Temple and that Silver was their choice.
"... and added that the young rabbi had not been approached and has no idea that he is wanted in Cleveland. "If you say so," Mr. Lowenstein said to the president, "I will take the next train back to Cleveland and nobody will ever know what I came for or that I was here at all." The president [of Leshem Shomayim] was so surprised and delighted at the manner in which Mr. Lowenstein put the proposition that he said he would not stand in the young rabbi's light."
The following evening the Leshem Shomayim trustees met and agreed not to stand in Silver's way.
The next morning President Lowenstein met with the young rabbi and put the proposition to him. Silver had rejected an offer from another large congregation the year before. Further, in June 1916, at the end of his first year at Leshem Shomayim, he had accepted a salary increase and a two-year contract that would not end until June 1918.
"I cannot accept it" was the rabbi's reply.

"Why not"

"Because the people here have been good to me. I love this community and I will not leave here unless my congregation tells me to go."
Then Mr. Lowenstein told him of his talks with the Board and how they did not like to see him go, but would not stand in his way, and he finally gave his consent. The trustees [of the Temple] had all heard him speak at the time he spoke in the B'nai B'rith building, and he was their unanimous choice for rabbi."
Abba Hillel Silver's consent meant moving from Wheeling, a city of about 40,000, to Cleveland - then the nation's sixth largest city, to a congregation five times the size of Leshem Shomayim and of national renown, and to a salary (see note) of $10,000, nearly four times what he was currently earning. Most important, as Silver wrote in his letter of resignation, he would be useful "in a larger field."
April 20 — Unofficial news of Silver's selection
On April 20, nine days before the Temple annual meeting when the selection would be announced, the front page of the Jewish Independent reported unofficially (but confidently) that the decision to select Abba Hillel Silver had been made soon after February 24 B'nai B'rith speech. The story ends with the question "Will Wheeling let him go?"


Jewish Independent April 20, 1917
Wheeling had already let him go.